October 2019
When it comes to heavy-duty exhaust system repair, there are two clamp options that NORMA offers that rise to the top of the list because they offer superior performance under harsh conditions: the NORMA V-Band clamp and Torca AccuSeal. Here's some quick information and installation tips that will come in handy for your next heavy-duty exhaust repair.  
The V-Band Clamp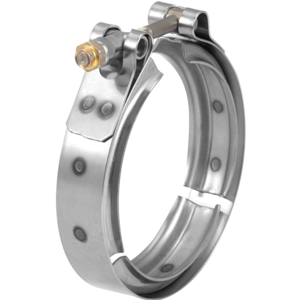 The most common type of clamp for a heavy-duty exhaust application is the V-Band, which is used in many commercial truck and marine applications. It serves to connect the exhaust system to a turbocharger, connect joints on catalysts and also provides high-strength coupling for diesel particulate filters. These clamps allow for easy disassembly and reassembly of components when service is needed. While they are easy to use, a few simple steps ensure a leak-free connection. First, make sure the clamp is serviceable. It should be free from rust and corrosion and the threads on the screw should be clean. Before installing a new or used clamp, check both sides of the flanged pipes and verify that they are completely clean, remove all rust and deburr the flanges before installing the clamp. Install the clamp and tighten the nut to 60 in. lbs. for a ¼ screw and 150 in. lbs. for a 5/16 screw. An important note, however, is to never re-use the V-Band clamps from a catalyst or diesel particulate filter system. These clamps have been subjected to very high heat cycles and can fail if re-used. To ensure customer satisfaction and maximum uptime of the truck, always replace these clamps when the DPF or catalyst is serviced. Never re-use a V-Band clamp, it has stretched to some degree and likely has some deformation.
Torca AccuSeal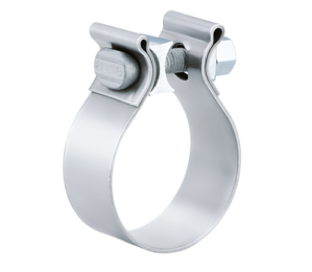 Other types of clamps used in HD applications include NORMA's Torca AccuSeal clamp. This clamp is used for connections that are more permanent than V-Band clamps because of its superior clamp load capacity and durable seal. It will not distort the pipes and also allows for disassembly.
Featuring a revolutionary high-performing reaction block technology, this type of clamp relies on stretching the metal band for a tight seal and should never be re-used. When installing the AccuSeal clamp, pipes should have a minimum of 2.5" overlap for a strong tight seal.