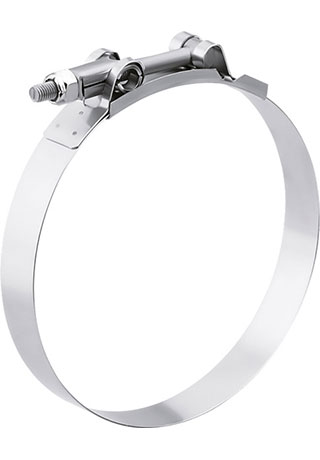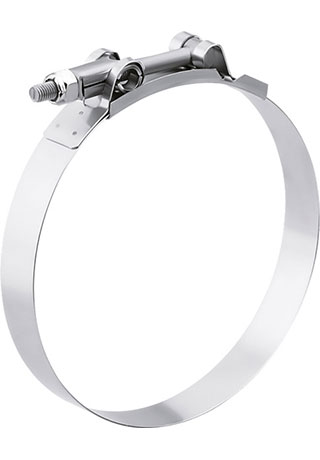 T-Bolt
#B9225-1327-PE00 B

The BREEZE HD Spring-Loaded T-Bolt clamp is ideal for tight spaces and high-corrosion environments. This constant-tension clamp includes a heavy-duty spring that allows the clamping pressure to adapt to external temperature changes. Additionally, it protects against cold flow leaks. This product consists of a stainless steel band, trunnion and bridge ideal for sealing liquid or air connections in hoses.
Detailed Description
With a high force and constant-tension design, the HD Spring-Loaded T-Bolt clamp is an ideal and durable clamping option for sealing liquid and air hose connections. It features SAE standard J1508 type SLTB, 3/4" bandwidth, 2 1/16" to 8 5/8" diameter range and floating bridge feature. This clamp's sleek design virtually eliminates the potential risk of hose damage and provides a long-term reliable solution with 360° sealing performance.
Product Specification
Nominal Diameter / Clamp Size:
13.27"/337.1mm
Installation Torque (In Lb):
50 in. lbs./5.6Nm
Insert Angle (degrees):
N/A
Insert Thickness (Inches and MM):
N/A
Insert Apex Width (Inches and MM)):
N/A
Insert Depth (Inches and MM):
N/A
Band Thickness (Inches and MM):
.04"/1.02mm
Band Width (Inches and MM):
.750"/19.05mm
Material Type:
Stainless Steel
Steel Type Bolt/Screw:
300 Series
Brand Information

For more than 90 years, BREEZE has been a symbol for American innovation – pioneering and manufacturing a deep portfolio of perforated worm drive hose clamps for aircraft, automotive, heavy-duty vehicle and industrial applications. Today, the brand offers a comprehensive line of BREEZE hose clamps and BREEZE industrial products including worm drives, T-Bolts, V-Band, constant torque solutions and specialty designs. Manufactured in America, BREEZE clamping technologies are engineered to meet exact requirements with proven quality, reliability and affordability. The full range of BREEZE products includes almost two dozen innovative solutions that offer the highest quality, safety and reliability and can seal everything from heavy-duty truck exhaust pipes to an aircraft's duct system.