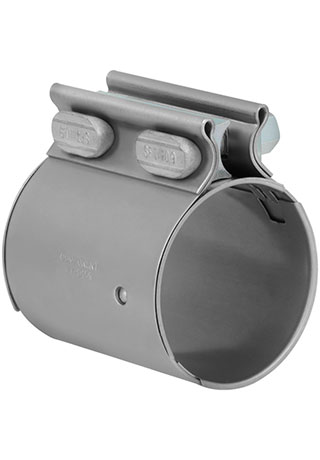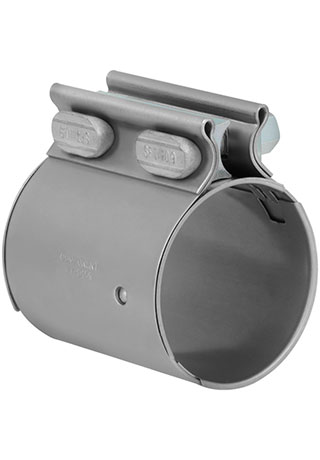 Coupler
#96-0139

The Coupler is a cost effective way for joining exhaust system components without the need for pipe flares, slip joints or slotting. This clamp offers superior clamp load capability and a serviceable joint. With high coupling force and minimal material usage, Torca provides maximum performance throughout the entire system. The Coupler is generally used for various automotive and industrial applications.
Detailed Description
Torca's Coupler is a pre-assembled butt joint style connection that allows for quick assembly and service of exhaust pipes. Torca Couplers provide significant resistance to longitudinal and rotational movement of pipes. The 15mm max gap allows for 33.5 to 44mm insertion per pipe. This all stainless steel connector has a 3 7/16" bandwidth and a 1.75" to 3.5" diameter range that meets a wide array of size requirements.
Product Specification
Nominal Diameter / Clamp Size:
2.17"/55mm
Installation Torque (In Lb):
45 in. lbs./5.08Nm
Insert Angle (degrees):
N/A
Insert Thickness (Inches and MM):
N/A
Insert Apex Width (Inches and MM)):
N/A
Insert Depth (Inches and MM):
N/A
Band Thickness (Inches and MM):
N/A
Band Width (Inches and MM):
3.35"/85mm
Material Type:
Stainless Steel
Steel Type Bolt/Screw:
Standard Hex Free
Brand Information

Torca has been engineering superior Torca joining solutions for the automotive and industrial exhaust market for almost 50 years. As the inventor of the original reaction block technology that set the industry standard for exhaust clamp sealing performance, Torca exhaust clamps continue to focus on product enhancements and innovation. Proudly developed and manufactured to OE specifications, Torca products provide the best performance, with the least material, for maximum efficiency to the overall system.