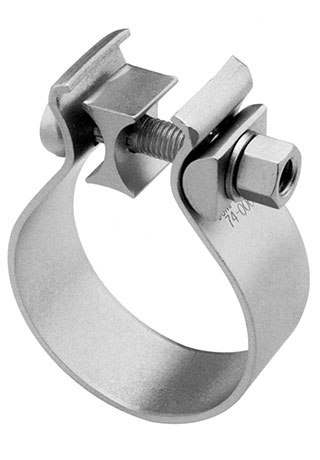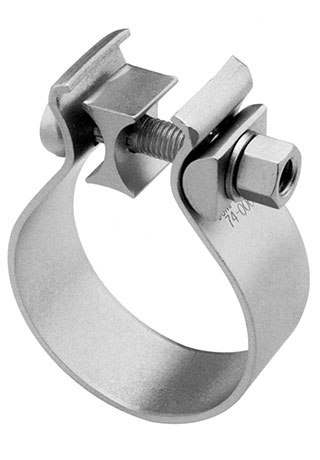 DuraSeal
#94-0053

With large load performance, Torca DuraSeal is proven to meet or exceed durability requirements on a wide array of industrial and automotive high pressure, environmental applications. The extra seal clamp is designed for applications with thicker pipe walls and larger pipe assembly gaps – making it ideal for applications with limited packaging space.
Detailed Description
Torca's DuraSeal lap style clamp is an ultra-performing sealing connector with reaction block technology. Torca DuraSeal offers extra seal and clamp load performance to meet or exceed durability requirements without permanent distortion to exhaust members. The clamp features a band with two screw designs for secure engagement: hex-style screw or oval bolt. With a diameter range of 2" to 5", it meets a number of sizing demands. The clamp has one torque point, provides tight sealing uniformity and is easy to install.
Product Specification
Nominal Diameter / Clamp Size:
2.50"/68.1mm
Installation Torque (In Lb):
U/K
Insert Angle (degrees):
N/A
Insert Thickness (Inches and MM):
N/A
Insert Apex Width (Inches and MM)):
N/A
Insert Depth (Inches and MM):
N/A
Band Thickness (Inches and MM):
U/K
Band Width (Inches and MM):
1.25"/31.8mm
Material Type:
Stainless Steel
Steel Type Bolt/Screw:
Magni 565 Hex Screw
Brand Information

Torca has been engineering superior Torca joining solutions for the automotive and industrial exhaust market for almost 50 years. As the inventor of the original reaction block technology that set the industry standard for exhaust clamp sealing performance, Torca exhaust clamps continue to focus on product enhancements and innovation. Proudly developed and manufactured to OE specifications, Torca products provide the best performance, with the least material, for maximum efficiency to the overall system.