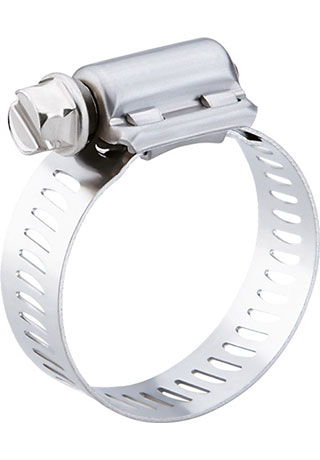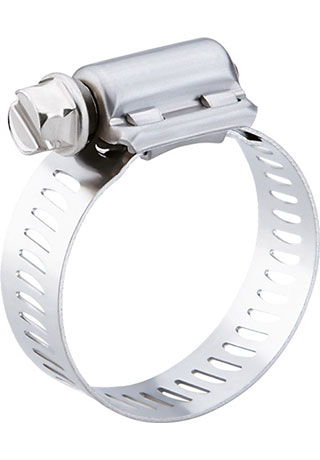 BREEZE Aero-Seal
#9344H-7 CB DS

BREEZE Aero-Seal is the original perforated stainless steel worm drive clamp for various aircraft and industrial applications. The high pressure, quadra-lock constructed clamp offers superior protection, making it the ideal choice for critical connections in extreme environmental conditions.
Detailed Description
The Aero-Seal is a high-performing clamp that has increased resistance against harsh conditions. The worm drive clamp protects hoses from destruction by maintaining a steady clamp load during joint construction. The worm drive clamp includes a 9/16" band with arcial perforations, 7/16" to 12 1/4" diameter range, and a 9/16" plated or stainless steel hex screw. This product is made with 300 series stainless steel materials and meets SAE standards.
Product Specification
Nominal Diameter / Clamp Size:
3.19"/81mm
Installation Torque (In Lb):
30-45 in. lbs./3.4Nm-5.1Nm
Insert Angle (degrees):
N/A
Insert Thickness (Inches and MM):
N/A
Insert Apex Width (Inches and MM)):
N/A
Insert Depth (Inches and MM):
N/A
Band Thickness (Inches and MM):
.58"/14.73mm
Band Width (Inches and MM):
.50"/12.7mm
Material Type:
Stainless Steel
Steel Type Bolt/Screw:
305
Brand Information

For more than 90 years, BREEZE has been a symbol for American innovation – pioneering and manufacturing a deep portfolio of perforated worm drive hose clamps for aircraft, automotive, heavy-duty vehicle and industrial applications. Today, the brand offers a comprehensive line of BREEZE hose clamps and BREEZE industrial products including worm drives, T-Bolts, V-Band, constant torque solutions and specialty designs. Manufactured in America, BREEZE clamping technologies are engineered to meet exact requirements with proven quality, reliability and affordability. The full range of BREEZE products includes almost two dozen innovative solutions that offer the highest quality, safety and reliability and can seal everything from heavy-duty truck exhaust pipes to an aircraft's duct system.