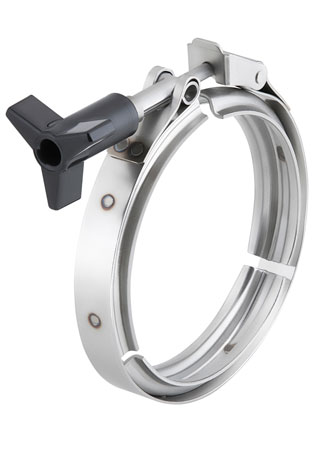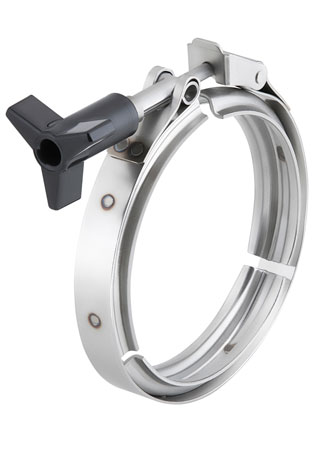 Quick Release V-Insert
#20088-02

The R.G.Ray Quick Release V-Insert clamp has a compact profile that allows for smooth installation across applications that have restricted clearance. Providing high clamping force with high pressure capabilities, this clamp can typically be used in filter, mixer and separator applications.
Detailed Description
R.G.Ray Quick Release V-Insert clamps are designed with a pivoting latch so the clamp can be opened with minimal rotation of the nut. Featuring three V-Inserts that are welded to a flexible outer band for additional movement if necessary, the clamp has a 2.08" to 5.90" diameter range and 40° insert angle.
Product Specification
Nominal Diameter / Clamp Size:
6.38"/162.05mm
Installation Torque (In Lb):
50 in. lbs./5.6Nm
Insert Angle (degrees):
76°
Insert Thickness (Inches and MM):
.06"/1.52mm
Insert Apex Width (Inches and MM)):
.22"/5.49mm
Insert Depth (Inches and MM):
.43"/11mm
Band Thickness (Inches and MM):
.04"/1.02mm
Band Width (Inches and MM):
.750"/19.05mm
Material Type:
Stainless Steel
Steel Type Bolt/Screw:
AISI type 410 420 or 431
Brand Information

R.G.RAY has been a leading supplier of heavy-duty engineered clamps for the commercial and passenger vehicle industries for more almost 50 years. With a focus on specialty products that include heavy-duty T-Bolt and FLEX SEAL hose clamps, V-Band and V-Retainer clamps, special strap assemblies and a broad variety of special application clamps, we manufacture R.G.RAY products to exacting OE specifications that consistently meet customer requirements for the most challenging applications.