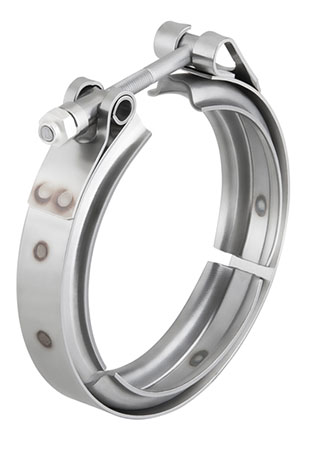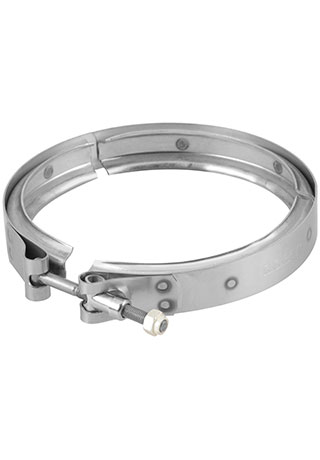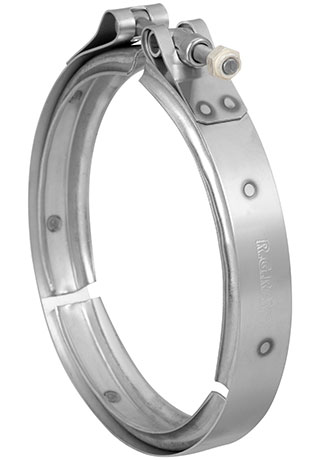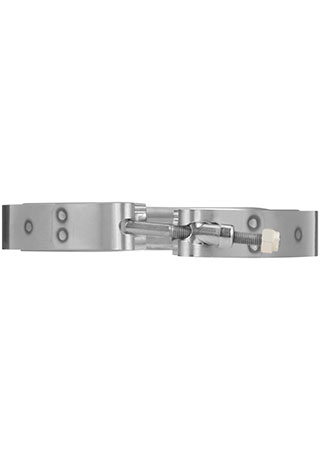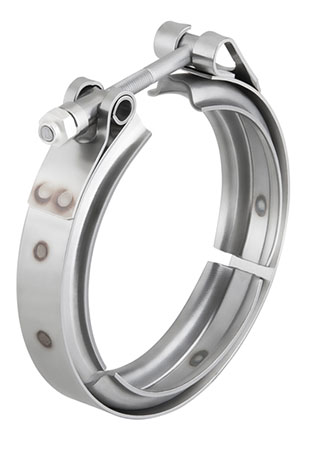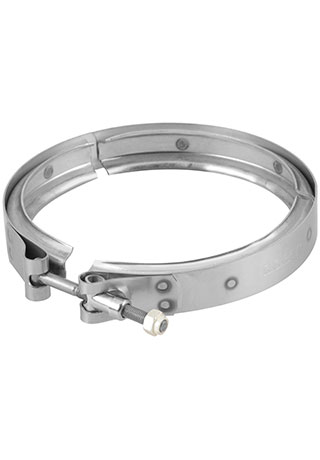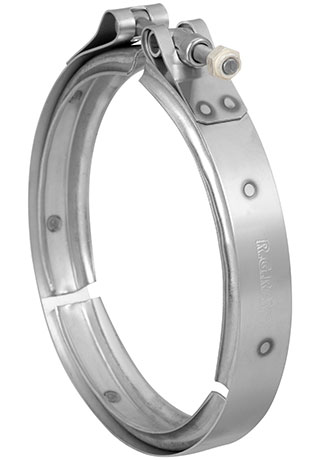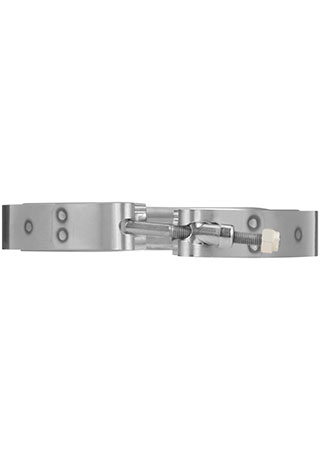 Quick Connect V-Insert
#050372

R.G.Ray Quick Connect V-Insert clamps are developed with powerful axial clamping force and extreme pressure capability. The clamp consists of a latch style that provides simple installation with minimal product distortion. V-Inserts are welded to a flexible outer band making it an ideal solution for heavy-duty diesel engine exhaust and turbocharged systems.
Detailed Description
The Quick Connect V-Insert clamp is a quality solution made with specialty steel materials. R.G.Ray's clamp features a 40º insert angle, three welded inserts to outer band, and a diameter range of 2.08 to 5.90". It also includes 1/4" or 5/16" fasteners. Plastic knobs are available upon request. The flexible outer band and high clamping functionality meets a wide variety of heavy-duty, large load applications.
Product Specification
Nominal Diameter / Clamp Size:
4.690"/119.1mm
Installation Torque (In Lb):
50 in. lbs./5.6Nm
Insert Angle (degrees):
40°
Insert Thickness (Inches and MM):
.050"/1.27mm
Insert Apex Width (Inches and MM)):
.400"/10.16mm
Insert Depth (Inches and MM):
.281"/7.14mm
Band Thickness (Inches and MM):
.035"/.89mm
Band Width (Inches and MM):
.96"/24.384mm
Material Type:
Stainless Steel
Steel Type Bolt/Screw:
410
Brand Information

R.G.RAY has been a leading supplier of heavy-duty engineered clamps for the commercial and passenger vehicle industries for more almost 50 years. With a focus on specialty products that include heavy-duty T-Bolt and FLEX SEAL hose clamps, V-Band and V-Retainer clamps, special strap assemblies and a broad variety of special application clamps, we manufacture R.G.RAY products to exacting OE specifications that consistently meet customer requirements for the most challenging applications.