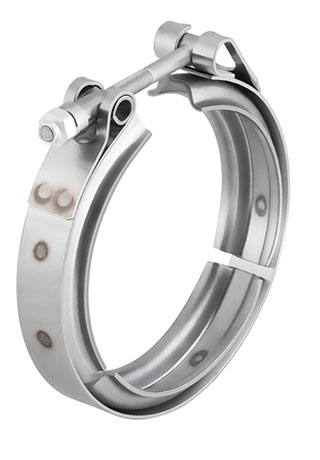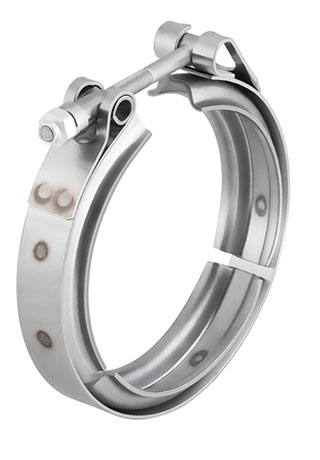 Quick Connect V-Insert
#050370

R.G.Ray Quick Connect V-Insert clamps were developed with powerful axial clamping force and extreme pressure capability. The clamp consists of a latch style that provides simple installation with minimal product distortion. V-Inserts are welded to a flexible outer band that is specially designed for heavy-duty diesel engine exhaust and turbocharged systems.
Detailed Description
The R.G.Ray Quick Connect V-Insert clamp is a quality solution made with specialty steel materials. Featuring a 40º insert angle, three welded inserts to the outer band, and a diameter range of 2.08" to 5.90", it also includes 1/4" or 5/16" fasteners. Plastic knobs are available upon request. The flexible outer band and high clamping functionality meets a wide variety of heavy-duty, large load applications.
Product Specification
Nominal Diameter / Clamp Size:
2.72"/69.1mm
Installation Torque (In Lb):
50 in. lbs./5.6Nm
Insert Angle (degrees):
40°
Insert Thickness (Inches and MM):
.053"-.049"/1.34mm-1.25mm
Insert Apex Width (Inches and MM)):
.193"-.173"/4.9mm-4.39mm
Insert Depth (Inches and MM):
.190"-1.70"/4.83mm-4.32mm
Band Thickness (Inches and MM):
.043"-.047"/1.09mm-1.19mm
Band Width (Inches and MM):
.76"-.74"/19.3mm-18.8mm
Material Type:
Stainless Steel
Steel Type Bolt/Screw:
AISI type 410 420 or 431
Steel Type Band:
300 Series
Steel Type Insert:
300 Series
Brand Information

R.G.RAY has been a world-leading supplier of heavy-duty clamps for almost 50 years with its products used in pump/filtration, aircraft, commercial vehicle and industrial applications. The full line of R.G.Ray heavy-duty engineered clamps include T-Bolts and FLEX SEAL hose clamps, V-Band and V-Retainer clamps, special strap assemblies and a broad variety of special application clamps. Consistently designed to meet customer requirements even for the most challenging applications, R.G.RAY products are manufactured to exact OE specifications and their application-driven approach to product design for all R.G.Ray clamps has led to global recognition. Even after five decades, the R.G.Ray brand stands for superior quality and innovative technology that meets the most stringent standards.