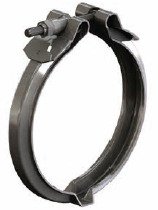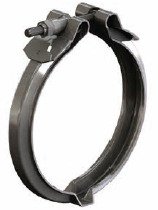 Uni-Flex V-Clamp
#001010-005

The Uni-Flex V-Clamp is a cost-effective continuously formed metal band. Its compact profile allows for smooth installation across applications that have restricted clearance such as diesel exhaust systems and turbocharger applications.
Detailed Description
R.G.Ray's Uni-Flex V-Clamp consists of a continuous v-retainer and a partial outer band. Its compact profile allows for simple adjustments on flanges. It has two 180º V-retainers and a hinge point for extra flexible force. This R.G.Ray product has a 4" to 9" diameter range and an added band for flexibility. This clamp is engineered with corrosion and heat resistant material to ensure full protection.
Product Specification
Nominal Diameter / Clamp Size:
5.88"/149.4mm
Installation Torque (In Lb):
75 in. lbs./8.5Nm
Insert Angle (degrees):
40°
Insert Thickness (Inches and MM):
.05"/1.3mm
Insert Apex Width (Inches and MM)):
.040"/10.16mm
Insert Depth (Inches and MM):
.281"/7.13mm
Band Thickness (Inches and MM):
.05"/1.27mm
Band Width (Inches and MM):
1.18"/30mm
Material Type:
Stainless Steel
Steel Type Bolt/Screw:
410 420 or 431
Steel Type Band:
301 302 or 304
Steel Type Insert:
300 Series
Brand Information

R.G.RAY has been a leading supplier of heavy-duty engineered clamps for the commercial and passenger vehicle industries for more almost 50 years. With a focus on specialty products that include heavy-duty T-Bolt and FLEX SEAL hose clamps, V-Band and V-Retainer clamps, special strap assemblies and a broad variety of special application clamps, we manufacture R.G.RAY products to exacting OE specifications that consistently meet customer requirements for the most challenging applications.