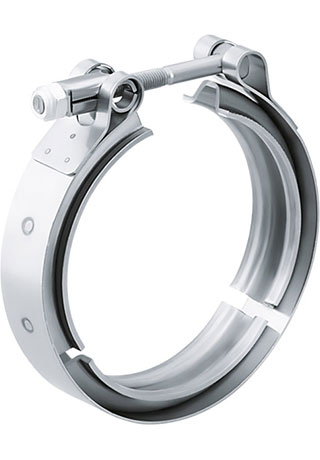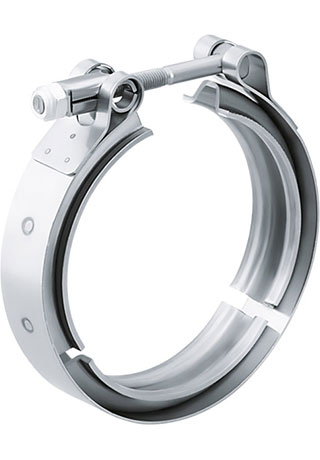 T-Bolt V-Band
#VT10413

BREEZE V-Band clamps offer fast, secure solutions for connecting flanged joints. A direct OE replacement, common applications range from light to heavy-duty projects and include diesel truck exhausts, turbochargers, pumps, filter vessels, telecommunication equipment and tubing.
Detailed Description
The BREEZE V-Band clamp is the perfect choice for heavy-duty exhaust or intake system repair jobs. It features a 40º insert angle, welded band construction with rotating angle and a diameter range of 2.11" to 14". Helping reduce assembly cost and time, BREEZE V-Band clamps are available in three latch styles, providing options for all exhaust and intake system needs.
Product Specification
Nominal Diameter / Clamp Size:
4.13"/104.9mm
Installation Torque (In Lb):
U/K
Insert Angle (degrees):
40°
Insert Thickness (Inches and MM):
.050"/1.27mm
Insert Apex Width (Inches and MM)):
.262"/6.65mm
Insert Depth (Inches and MM):
.141"/3.58mm
Band Thickness (Inches and MM):
.035"/.89mm
Band Width (Inches and MM):
.750"/19.05mm
Material Type:
Stainless Steel
Steel Type Bolt/Screw:
400 Series
Steel Type Band:
300 Series
Steel Type Insert:
300 Series
Brand Information

For more than 90 years, BREEZE has been supplying a deep portfolio of perforated worm drive hose clamps for aircraft, automotive, heavy-duty vehicle and industrial applications. A pioneer in the clamping industry, BREEZE branded products include the most comprehensive line of worm drive, T-Bolt, V-Band and specialty clamps on the market today. Designed and manufactured in America, BREEZE clamping technologies will meet your exact requirements with proven quality, reliability and affordability.