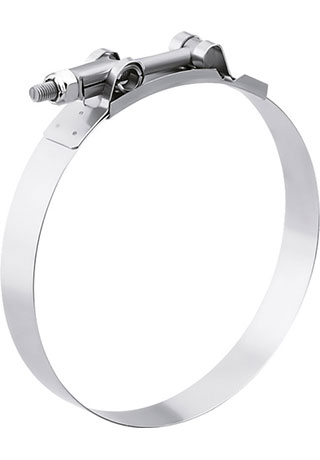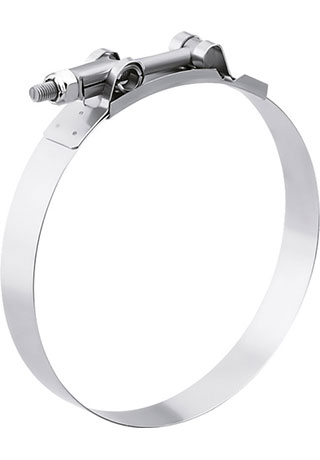 T-Bolt
#B9225-1327-PE00 B

The BREEZE HD Spring-Loaded T-Bolt clamp is ideal for tight spaces and high-corrosion environments. This constant-tension clamp includes a heavy-duty spring that allows the clamping pressure to adapt to external temperature changes. Additionally, it protects against cold flow leaks. This product consists of a stainless steel band, trunnion and bridge ideal for sealing liquid or air connections in hoses.
Detailed Description
With a high force and constant-tension design, the HD Spring-Loaded T-Bolt clamp is an ideal and durable clamping option for sealing liquid and air hose connections. It features SAE standard J1508 type SLTB, 3/4" bandwidth, 2 1/16" to 8 5/8" diameter range and floating bridge feature. This clamp's sleek design virtually eliminates the potential risk of hose damage and provides a long-term reliable solution with 360° sealing performance.
Product Specification
Nominal Diameter / Clamp Size:
13.27"/337.1mm
Installation Torque (In Lb):
50 in. lbs./5.6Nm
Insert Angle (degrees):
N/A
Insert Thickness (Inches and MM):
N/A
Insert Apex Width (Inches and MM)):
N/A
Insert Depth (Inches and MM):
N/A
Band Thickness (Inches and MM):
.04"/1.02mm
Band Width (Inches and MM):
.750"/19.05mm
Material Type:
Stainless Steel
Steel Type Bolt/Screw:
300 Series
Steel Type Band:
301 Stainless Steel
Brand Information

For more than 90 years, BREEZE has been supplying a deep portfolio of perforated worm drive hose clamps for aircraft, automotive, heavy-duty vehicle and industrial applications. A pioneer in the clamping industry, BREEZE branded products include the most comprehensive line of worm drive, T-Bolt, V-Band and specialty clamps on the market today. Designed and manufactured in America, BREEZE clamping technologies will meet your exact requirements with proven quality, reliability and affordability.